Patient Access
With Patient Access, you can now use the internet to book appointments, request repeat prescriptions for medications you take regularly and look at your medical record online. Of course, you can still telephone the surgery for any of these services as well.
Patient Access is a 24 hour online service you can do this in your own time, day or night. It also means that you can access your medical records from anywhere in the world should you require medical treatment.
Services Available:
Book an appointment.
Order repeat prescriptions.
Change your address details.
Update home telephone numbers and email address
Send secure messages to your practice.
View your electronic health record (EHR) – this service allows you to
view your medical record as we have recorded it, with help to interpret
the more technical terms
Create a personal health
Is my information secure?
All information that is sent to your surgery via Patient Access is secure. Your personal details are encrypted and protected using the highest standard internet security, so it cannot be intercepted. Only you and your GP surgery are able to see this information.
This site uses a security certificate issued by a trusted authority. This is a way to prove the site is genuine and to tell your browser to use strong encryption for every page you view. You will see the same technique used by online banks and shops.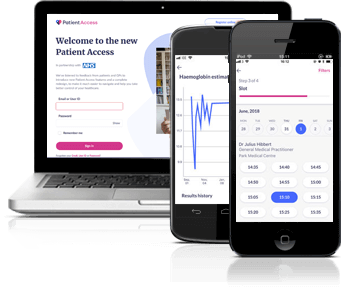 MORE ABOUT PATIENT ACCESS:
Appointments:
Surgeries: 8.30am - 6.00pm
& 6.30pm - 8.00pm Monday to Friday (pre booked appointments only)
Reception: 8.15am - 6.00pm
Telephone lines:
8.00am - 6.30pm
Dispensary:
8.30am - 6.00pm
Phlebotomy (Blood Tests):
8.40am to 11.40am (transport of specimens to the lab limits the service times)
THE SURGERY:
40 North Road, Bourne, PE10 9BT
Galletly Practice
THE SURGERY:
40 North Road,
Bourne, PE10 9BT