Influenza Vaccination Information 2020
We are currently sending letters to our patients who are eligible for the flu vaccination.  However, if you are over the age of 65 years or received the vaccination previous because of an at risk condition do not wait for your letter.  Download the NHS App and book your appointment immediately.
 If you are aged between 50 and 64 years and do not have underlying at risk condition, NHS England have advised that the vaccination programme for these age groups is to take place in November to December – we await confirmation on being able to proceed with this.
 Flu is a serious and potentially life threatening infection and we highly recommend that you are vaccinated against it, this is especially important in the current climate.
Appointments can be booked on-line.  The NHS App is free and available for all systems. It is easy to download with simple registration instructions.  Use of the NHS App will avoid phone lines becoming blocked, speed up your booking and is available 24 hours a day.  Once downloaded and registration complete it will also allow you to book other appointments, order medications and much more.
If you are unable to set up on-line access, call 01778 562200 selecting Option 1 Monday to Friday between 10am and 4pm to book your appointment.  Please be patient as there may be large numbers calling.
This year will be a very challenging year for delivering the flu vaccination program, but please be assured that we will be operating a strict socially distancing clinic with strict infection control measures in place to reduce the risk of COVID-19. Consequently, our process this year had to change significantly to ensure we are operating a socially distanced clinic.  This is for your and our own safety and we ask that you adhere strictly to the instructions and guidance within this letter.
Our Flu clinics our available from Monday 21st September 2020 as follows
Monday 21st September 9am – 1pm 2pm – 6pm
Tuesday 22nd September 9am – 1pm 2pm – 6pm
Wednesday 23rd September 9am – 1pm 2pm – 6pm
Thursday 24th September 9am – 1pm 2pm – 6pm
Friday 25th September 9am – 1pm 2pm – 6pm
Saturday 26th September 9am – 1pm 2pm – 4pm
We also have a limited number of appointments each weekday evening between 6.30 and 8pm.  We ask that these are used for those unable to attend during normal hours.
Vaccination will not be available outside of these clinic times
PLEASE READ BEFORE COMING TO YOUR APPOINTMENT
When attending for your appointment, please follow these instructions:
Attend on your own unless you need help in mobilising

Arrive no more than 5 minutes before your appointment time; we have allocated a strict number of patients per clinic to maintain social distancing.  

If you arrive late you will not be seen and will need to re-book

Wear a face covering: if you are exempt from wearing a face covering, please be prepared to provide evidence of this

Sanitise your hands when entering the building – we encourage you not to touch anything in the practice

Use the self-arrival machine – following the instructions 

There will be limited chairs available to sit while waiting and you will not be able to sit whilst having the vaccination (for infection control) 

Wear clothing which makes it easy to expose your upper arm – have your arm ready for vaccination on entering your appointment

Do not attend if you or any members of your household have symptoms of coronavirus, or if you have been told to isolate
Flu Clinic Diagram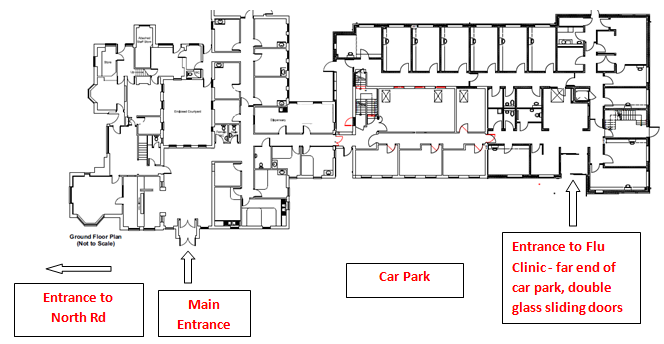 YOU MUST BOOK AN APPOINTMENT
BOOK ON-LINE USING THE NHS APP. DOWNLOAD IS FREE, SIMPLE TO USE
ONLY IF YOU ARE UNABLE TO USE THE NHS APP CALL 01778 562200 AND SELECT OPTION 1
10AM AND 4PM DAILY
ARRIVE NO MORE THAN 5 MINUTES BEFORE YOUR APPOINTMENT
FOLLOW DIRECTION AND INSTRUCTION SIGNS
LATE ARRIVALS WILL NOT BE SEEN
MAINTAIN SOCIAL DISTANCING. WEAR A FACE COVERING AND SANITISE HANDS ON ARRIVAL
WEAR SUITABLE CLOTHES ENSURE ARMS ARE BARE ON ENTRY TO APPOINTMENT